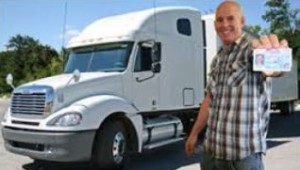 Recently a friend of mine decided he wanted to get some part time work driving truck in the evenings. With the holiday season coming up it is actually a pretty smart move as stores and shops start to sell through more and warehouses push out more goods at nighttime.
Anyways, so my friend kept asking me how to get a commercial driver's license, since I've been driving for about 15 years now. But that was the problem, all I do is just renew mine. So, he finally got to the DMV and took care of it. I thought I'd share the basic steps here for people who are interested as well.
Firstly, you need to get online and find out what your state, and perhaps even your city, requires. You could visit the DMV also and do this, but honestly, who wants to spend more time there if they don't have to. Just give it a quick Google and find out what the paperwork requirements are and so on.
Next you'll want to verify the fees that need to be paid. Normally you'll have to pay for three things – you'll pay to apply, you'll pay for a course and then you'll pay to actually receive the license. And you thought just paying tax to Uncle Sam was enough, right?
Ok, so next you're going to have to apply. You'll do this before you take your course. It's kind of like getting your learner's permit first. Most states require this to be done in person, but you might be able to do it online. I doubt you can do it through a third party.
Next up is the most important. You've got to take a class and practice. Believe it or not most guys think they can skip this. They think they know how to drive and that driving on vehicle is the same as any other. Well, they're wrong. Dead wrong. I say this for two reasons. First and foremost, you're going to have to take your test in the type and class of vehicle that you want to be certified for. If you're not used to driving it you're going to fail. This isn't a joke or something to be taken lightly, it's serious. And that leads me to my second point – if you don't practice chances are very good you're going to kill someone. Is that the kind of driver you want to be?
Alright so once you've got enough practice in you're ready for the big day – your test. Make sure your vehicle is in good working order and also clean; your license examiner is going to appreciate that.
When you're taking your test just relax and take it slow and safe. Remember it's not a race. Focus on the tasks you're given to do and follow the law. There might be some short cuts that you know everyone does but this isn't the time or place for that. The fact of the matter is, you need to demonstrate that you can drive safely and obey the traffic laws.
Once you take care of that you're ready to go and collect your CDL and join the world of commercial driving. It's a good field to be in and it doesn't have to mean being a delivery driver – you can drive a limo, a bus or a commuter van if you have the correct commercial driving license.