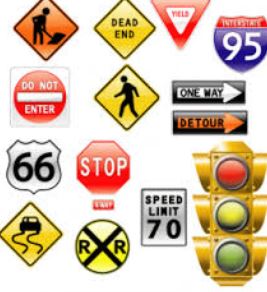 I'm not sure how this happened but I managed to let my driver's license expire. I guess I've just been really busy with work and moving and life in general.
At the time I didn't think much of it. I figured I just needed an hour or so at the DMV to fill out a form and pay for a new license and then I'd be done. Man was I wrong. Turns out, you have to take the exam all over again. And I don't just mean the driving test, I mean the written test also. I honestly had no idea! And I'm 35 years old!
Now, you might think this isn't a problem. I know I didn't. But the truth is, if you don't study, that sucker is hard. I say this because I know – I didn't study.
The hardest part for me was the stupid traffic sign test. Seriously, I know you're probably laughing at this, but there are signs on the test you absolutely never see. It's like they're trying to trick you or something. What a nightmare.
Anyways, here's some advice to help you out with that section.
The first piece of advice is the most obvious. Study the book and the materials they give you. You can expect about 30 multiple-choice questions. You have to answer them all, so don't be stupid like me, prepare yourself.
When you're studying the traffic signs, drill yourself on the unusual signs, especially the blue ones. Yes, that's right the blue ones. You're probably saying "Blue ones? What blue ones? There aren't any blue traffic signs!" Well, I'm here to tell you that yes there are and you need to know what they mean because they're on the test.
Ok, thirdly, make sure you understand very clearly signs related to redirecting traffic. This could be around a construction site or a road that is narrowing or even lanes that are shifting to the left or right. I can guarantee you're going to see those on the test.
Alright, so, some study tips. Drill yourself. Use flashcards or an app on your phone. No matter how you slice it you've got to drill yourself. Your goal should be to correctly identify thirty different traffic signs in less than 15 minutes. That might sound difficult but it's not. Trust me, I did it. After I failed twice.
Next, pay attention when you're out and about. Look around you. What do you see? Yes, that's right, traffic signs! Think of this as an opportunity to study for free. How much fun is that?
Seriously though, you can turn this into a game like bingo, where you have the signs already printed out on a sheet of paper and you cross them off when you see them. Even better would be have the meanings of the signs written down and you match the meaning with the sign. If you do that, you'll pass the traffic sign test with absolutely no problems at all.