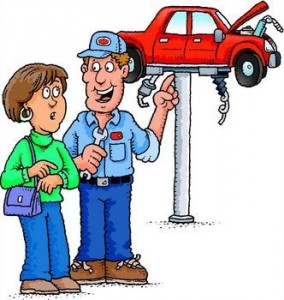 When it comes to fixing cars most people haven't got a clue how to fix even the slightest problem. You either seem to know a lot about them or very little, not many people in the middle. The problem with not knowing much about cars arises when you have to take it into get it fixed. If you don't know what to look for the mechanic could take advantage of you.
When you are preparing to take your car into the mechanic there is some homework that you need to do. You don't want to go in there ignorant so research the problem that you are facing, and make sure that you understand it. The more educated that you are, the more money you are going to save in the long run. Most people have experienced picking their car up from the mechanic only to hear about several other problems that need to be fixed. If you don't know anything about cars then you won't know if it's a legit mechanical problem, or if there is no problem at all.
You want to make sure that you follow the maintenance schedule of the vehicle. If you don't follow the schedule then you may end up with more problems, which will cost you more money. When you follow the manufactures suggested maintenance schedule you protect yourself from liability. However, if you decide that the vehicle does not need a maintenance check-up in the recommended time frame, and your car does end up having a defect, you may lose against the manufacturer lemon law due to what they will substantiate as negligence.
You vehicle will break down eventually and you will have to take it in to get repaired. When looking around for mechanics the best place to get referrals is from your friends or family. Ask them what mechanics they have been using and if there is any that you should avoid. When you take your vehicle in for repair always get a second or third opinion to validate the vehicles problem. The more educated you are with your car the more money you will save and the longer your vehicle will last.