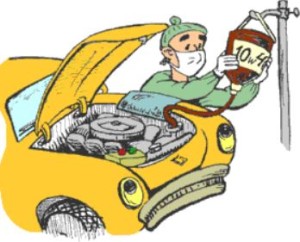 Your car's oil is essentially its blood. It is what cools the engine down, and it also removes the pollutants that made their way into the engine. You should make sure that you check your car's oil about once a month to make sure that everything is fine.
In order to check the oil, open the compartment that contains the engine (the hood on front engine cars, or the rear on mid and rear engine cars). You will then need to locate the "dipstick." It is normally right next to the engine if you have a wet-sump engine (99% of cars have this), or next to the oil cap if you have a dry-sump engine (if you have an exotic car or a high-end sports car, you most likely have a dry-sump engine).
Remove the dipstick and wipe it off with a rag or paper-towel. Insert it back in the engine and then pull it out again… You will need to look for a few things:
Color– Look at the color of the oil. Oil is a golden, honey color when it is brand new and clean, and gets darker as it gets closer to the end of its life. If the oil seems like it is more black than gold, it is most likely time for an oil change. A good test it to put a drop of oil on your fingernail, if you can easily see your nail, your oil is fine.
Location– Look at where the oil is in relation to the markings on the dipstick. If it is under the "MAX" line, add some oil to bring it back up. If it is under the "MIN" line, add oil immediately! It is extremely dangerous for your engine to run with too little oil.
You should always be sure to check your oil and make sure it is at the proper levels and not too dirty. Otherwise, you might end up needing a new engine instead of just an oil change.