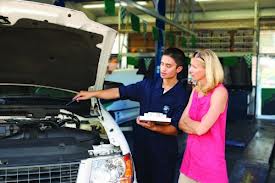 When you find a vehicle that you absolutely love, you want it to last as long as possible. Regular car maintenance will not only keep it on the road longer, it will also help to hold its resale value, and keep you safe on the road, in all kinds of weather conditions. To avoid future car problems, be sure and have the following checked, inspected and replaced as needed.
Exterior
Wash and wax your car on a regular basis. This is especially important in the winter, as salt, sand, snow and ice can wreak havoc on a car's metal exterior. Check for signs of rust around the door frames, underside and trunk area. If possible, put it in the garage when not in use to keep the snow and ice from accumulating. Keeping your car looking fresh and shiny won't make it run better, but it will make you feel great knowing you're driving something that looks like it should be in a car magazine.
Brakes
Brakes, rotors, pads, shoes, drums should be checked by a professional regularly and replaced when necessary. Don't wait until you have no brake pads left – this only leads to more repair costs, and could put you in a dangerous situation on the road. If you do a lot of city driving, you may need to replace them sooner than someone who drives primarily on the freeway.
Exhaust System
Everyone has heard of at least one person who has lost their muffler on the side of the road. Don't let that happen to you! Exhaust pipes and tail pipes can become rusted and loose over time, and is one of the most overlooked items when performing car maintenance. It could also land you with a ticket for excessive noise.
Fluids
Many people think as long as they change their oil every 3,000 miles they are good to go; wrong! There are other fluids that are just as important, like transmission fluid, power steering fluid, and let's not forget about the windshield washer fluid! This is easy enough to check without getting a qualified professional involved. Although, if you find you're filling fluids up more than you think is necessary, you may have a leak, and it is best to get it checked.
Engine
If your car has suffered major engine damage, it may make sense to have it rebuilt, rather than going out and buying a whole new vehicle. They are built by professionals and adhere to the same strict safety standards that new manufactures follow. It could be much cheaper than buying a new car off the lot. With regular maintenance and check-ups, it shouldn't be necessary to have an engine rebuilt, however.
Tires
Always make sure your tires are fully inflated, and that they are balanced properly. Under inflated tires could cause it to blow while you're driving down the road; and, it causes your vehicle to consume more gas. Winter driving requires better quality tires, and more tread so make you have all-seasons, if not special winter tires to get you through the snow and ice.