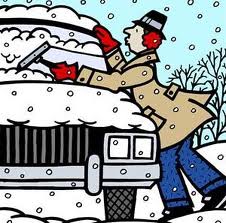 Winter is  the hardest seasons to drive in, with all the snow, icy roads, and cold weather. You need to dig it out of the snow almost every day, worry about parking bans, and watch as it gets progressively dirtier and dirtier as the long winter months drag on.The cold weather can make the pliable materials stiffer and more brittle, and it can also make fluids thicker. Additionally, the roads can be more dangerous due to the icy and snow-covered roads.
For this reason, you need to make sure having your car ready for winter by doing some simple car maintenance checks. Here are some basic car maintenance tips to help you get through the winter. 
1. Tune-up your car
Before you use your car, you must take it to your car service center for a tune-up. A tune-up will help keep your vehicle running longer, and it will also help you save money by detecting and preventing problems.
2. Get the right tires for winter
There are different types of tires available for different driving conditions. When choosing the right tires for winter, you must first consider your needs. The all-season tires are not usually effective during winter where there are lots of snow and icy roads. For example, there are winter tires with new tread patterns and rubber compounds which make them quieter on dry roads, and very effective on icy roads. Choosing the right winter tires will help you avoid slipping off the road or other accidents.
3. Check your oil and other fluid levels
You have to check that your car's transmission, power steering, brake, and windshield fluids, as well as the oil, and coolants are filled to proper levels. You also have to remember that there are certain engine oils that don't perform well in the cold weather. Make sure that your oil is good for your location, and change it when necessary. If your fluid levels are at proper levels, your vehicle will run better and you will be less susceptible to road problems.
4. Check your battery
Since you will be driving your vehicle on testy roads, you must pay close attention to your car's battery. You have to realize that winter puts more stress on your car battery, especially if you park outdoors. You can consider a load-test for your battery since this is cost-effective and can save you from problems down the road. If you find out that your battery is not doing well, you can replace it when you need to.
5. Prepare a winter emergency kit
You must always bring with you an emergency road kit. In addition, you must also have a special winter emergency kit which includes: sand for tire traction on snow, and an ice scraper and de-icing liquid.
Doing all the car maintenance checks. It will help you save money and time as the season turns for the worst.